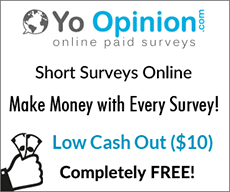 SHORT SURVEYS ONLINE!
Make money with every survey. Low cashout of just $10 and all completely free!
At Yo Opinion, we focus on providing high-quality responses to our clients' surveys, used for market research purposes. Your data is gathered collectively and we will never single out or share any personal information that has not been given as part of a survey. It is of utmost importance to us that we respect the privacy and confidentiality of our Yo Opinion community members.
With over 10 years' of experience in online surveys, our parent company MADE IN SURVEYS LTD adheres to the ICC/ESOMAR International Code on Market and Social Research, the ESOMAR Guideline for Online Research and the MRS code of conduct.
<!– paidsurveys.com_responsive –>