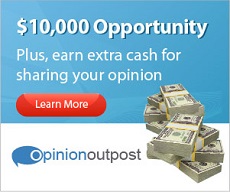 EARN YOUR FAVORITE REWARDS WITH OPINION OUTPOST!
Earning cash and rewards for taking surveys is one of the biggest perks of joining Opinion Outpost. Check out some of the reward options we offer our members:
We know that Amazon.com is the mecca of online shopping websites. When you join Opinion Outpost, you can redeem your points for Amazon.com Gift Card* Claim Codes.
Love music, movies, or TV shows? Redeem your points for an iTunes* Gift Card to expand your media library.
If you believe cash is king, you can redeem your points for money using our PayPal redemption method. It's safe, secure, and a popular option for many Opinion Outpost members!
It gets better! Opinion Outpost has a $40,000 year-long cash give away! Every quarter a winner will receive $10,000! Each time you take a survey you receive an entry into that quarterly prize draw. The more you participate, the more likely you are to win!
GET PAID FOR SHARING YOUR OPINIONS!
•  Earn cash and gift cards by sharing your opinion in online surveys.
•  Win a $10,000 quarterly prize draw simply by participating.*
•  It's 100% free to sign up