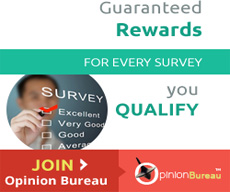 Let's improve the products & services of tomorrow
by sharing your valuable feedback & opinion!
Benefits for Members:
$5.00 Joining Bonus
Earn $1 for each of your referrals
Earn up to $10 for completing a survey
Redeem your reward as soon as you have
$10 in your account
Avail multiple choices to redeem your reward
We are committed to bridge the gap that exists between the consumers and marketers and this is what we are here for. Should you want to actively change tomorrow's market, join our online survey community to avail the benefits that come all the way through.
True, authentic and unbiased opinions of consumers help the companies to come with better and higher quality products, thus we encourage all of our members to express their honest and true opinion in surveys they participate in as it helps them in the long run to receive quality products and services in future. We also encourage our members to promote and expand Opinion Bureau community among their friends, relatives and colleagues by referring them our website and then earn some reward for every genuine member joining the community.
Our members earn rewards for participating in surveys, polls, referring other to the community so that they are interested in spending their leisure timewhilstat the same time sharing their views to companies on the products and services they use in their everyday life.