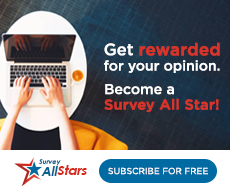 GIVE YOUR OPINION & TELL THEM WHAT YOU THINK!
SurveyAllStars was created for users to help take advantage of paid surveys on the internet. You can have fun and earn rewards for things you already love to do online.
How does it work?
We know the power of your opinion! By joining SurveyAllStars and providing your feedback on products and services, you will have the ability to shape future products and services. Once you register on our site and tell us a little bit about yourself, your preferences will be matched to unique survey opportunities. Take as many or as few surveys as you'd like and earn rewards for your input. The more survey opportunities you participate in, the more rewards you earn!
<!– paidsurveys.com_responsive –>